NOON Saturday – Labor Day weekend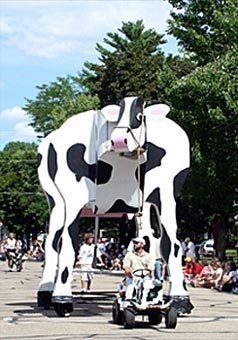 Cowabunga – the Trojan Cow
One of the best ways to publicize the Wisconsin State Cow Chip Throw has been the Parade. The first memorable Cow Chip unit was the papier-mache chip built on a three-wheeler.
Other units which have been created and used include the Cow Chip Factory, which sent chips out of a barn on a "conveyor", and Cow Patty – a life-size cow who could really fling 'em.
In 1989 members of the Wiscowchip Committee built eight three-dimensional cows and a bull which were on wheels for a drill team called Bovine in Motion. These cows and bull are still used on occasion.
In 1990, the biggest and best – a Trojan Cow – was constructed. Cowabunga is a 13'6″ tall cow which has a head that moves from side to side and of course lifts her tail for the now infamous "chip".
In 1989 a high point for Bovine in Motion was accepting an invitation to perform during halftime of a University of Wisconsin Badger Football game with the UW Marching Band, and on another occasion with the UW Varsity Band in the Fieldhouse.
If you are interested in joining our parade, download the 2017 Registration Form Here.
Parade starts at Noon on Saturday of Labor Weekend.