Saturday – Labor Day weekend  | Marion Park | 9:00 AM – 5:00 PM
 125+ exhibits ranging from furniture, lawn decorations, photography,
ceramics, quilts, stained glass, and much more!
The Arts and Craft Fair is managed by River Arts Inc, a non‐profit arts organization in Prairie du Sac, WI. We are excited to continue the tradition of hosting a wonderful arts and craft fair during Sauk Prairie's famous Cow Chip event, and the entire Sauk Prairie Community welcomes you to join the fun!
Learn more about our organization at www.riverartsinc.org.

Exhibiting your art:
Are you looking to display and sell your crafts during one of Sauk Prairie's biggest annual events? We invite you to apply to this year's Arts and Craft Fair. Registration begins at 7 a.m. on the day of the Fair. See details below.
APPLICATION DEADLINE: May 15, 2018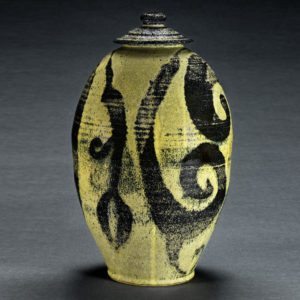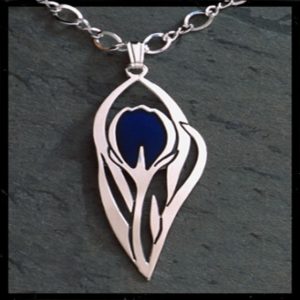 Vase by Susan Koehler, Necklace by James Thibault
Eligibility:
Only art and craft items of original design and handcrafted by the exhibiting artist may be at Cow Chip.
Not allowed: buy sell items, consignment pieces, work made from kits/patterns, imported items, and food vendors. River Arts Inc. reserves the right to accept or reject any entry or exhibit, or part of any entry or exhibit at any time including the day of the Art Fair without refund of booth/jury fee.
Fees:
$85 per booth fee (15×15 ft space) and $25 non refundable jury fee. The $25 jury fee is paid upon submitting your application, and then if you are accepted into the show after the jury process you will be invited to purchase a booth for $85 at a later date.
If you are requesting more than one booth space, only one $25 jury fee is required.
Cancellation deadline with booth fee returned is July 1, 2018.
This is an outside event; no refunds will be made due to inclement weather.
No commission is taken on sales: artists are responsible for collecting tax as appropriate.
Exhibitions:
Each participant is responsible for preparing, exhibiting, and removing their own work. No take downs before 5pm. No driving on park grass to load/unload booths at any time.
Spaces are pre assigned based on the postmarked date of the application.
Registration begins at 6 am on the day of the Fair. Set up on Friday after 4 pm is allowed but no overnight security will be provided. River Arts Inc. nor the Cow Chip Committee will be held liable for loss or damage of goods.
No pets in the park
Deadline:
Application due by May 15, 2017. All fees must be paid by that date.
Notification of acceptance or rejection will be sent between June 1-June 10, 2018.. A refund check will accompany those entries rejected.
Application Process:

The ZAPP® System
In an effort to continually improve this event for our vendors and visitors, we will be shifting to an online application system called ZAPP. ZAPP® enables individual artists to apply online to multiple art shows through one central website, ZAPPlication.org. This free, online application process also allows artists to directly upload digital images of their artwork for jury review. The result is that all artwork in the system is in a consistent, high-quality, digital format. The digital images are presented to the jurors of each show and the system allows them to score online.
Benefits to Artists:
Using ZAPP® is free to artists
Artists can upload 1000 MB of digital images to their online, individual image bank
Jurors see high-quality digital images of artists' work
Artists can manage applications to multiple shows through ZAPP®
Artists save money on postage and no longer have to mail slides or CDs of images
Artists can access their ZAPP® accounts and image bank online from any computer with an Internet connection
Artists only have to enter contact information into ZAPP® once
Artists no longer have to complete multiple-page paper applications
Artists receive email notifications with application status and other relevant information
Artists' images and personal information are kept secure and confidential
Both new and returning vendors must completely fill out the application in full, including at least 5 photos of the work you plan to sell.
Applicants will be juried in May by a committee, based off of the photos provided and by media category.
*Note: River Arts Inc is no longer accepting paper applications for this event. All applications and photos must be submitted using this online format.

Getting Started:
Use the link below for details on how to set up an account, find our show, apply to shows, upload pictures, and submit an application. A video and written instructions are available: https://www.zapplication.org/help-center.php?page=how-to-apply
Frequently Asked Questions on ZAPP: https://www.zapplication.org/help-center.php?page=frequently-asked-questions
ZAPP Help Center: https://www.zapplication.org/help-center.php